We are perfectionists' and have mastered the Art in meeting all sort of technology demands of our clients irrespective of the size or complexity of the task.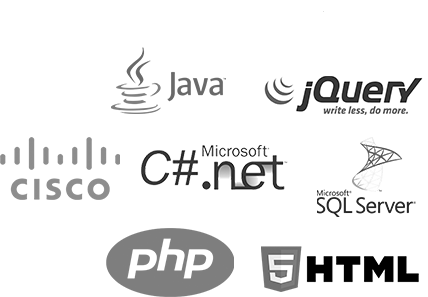 Our expert know-how includes
Java (J2EE, Hibernate, Spring, Struts, Junit, Eclipse).
.net Core, C#.NET, VB.NET.
PHP (Lamp, Codeignitor, cakePHP).
Python (Django, Flask, Oodo).
EF, ADO, ADO.NET.
HTML, XHTML, Java Script, JQuery, Angular.
ASP, XML, ASP.NET, MVC, WCF.
Open Source CMS (Joomla, Drupal, OpenCart and WordPress).
Experience in Integrating 3rd party services like AWS, EC2, Google API, Social Networking sites, PayPal, Authorze.Net.
Microsoft SQL SERVER, MySQL, PGSQL, Oracle.
SEO, SEM and SMM.
CISCO IOS, WINDOWS, Red Hat.
The backing of 20 years experience in providing IT services have made us very confident that we can serve clients located in any location.
Our service capacity includes:
Web 2.0 Website and Web portals.
E Commerce and E Business application development.
GUI and Back - End application development using Silverlight and Adobe Flex.
Web Services and WebAPI.
Online retail and wholesale E Commerce application development.
Solutions for back office management.
Inventory and Order management systems.
CRM Applications.
Loyalty & GiftCard systems.
Mobile Applications for iOS and Android Platforms.
Performance, Security, Traffic patterns, Search Engines and Usability evaluations for websites.